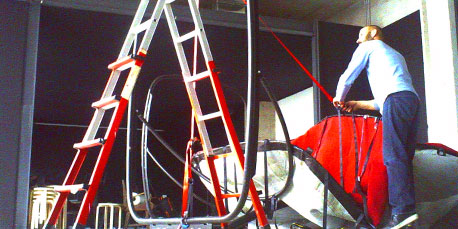 Hammers, drills and hoovers, harmonic phones, cans, radio alarms, different languages: these are design sounds shaping our WeSpace!
In progress projects full of adrenaline and passion are made with a "making together" footprint.
There is someone who's connecting old phones and harmonicas (Andrea Valle), who's exploring a huge red belly (Numen/ For Use), who's filling boxes with coloured gums, who's going around with digital helmet and cameras (Domic Wilcox), who's still setting his work (Demian Conrad) and who will let the public speak in BarCamp (Love Difference).
Then, here we are: being intrigued, enchanted by a collaborative exhibition characterised by the personal research which each performer will share with public.
Looking outside the windows of Logotel building, it takes a glance to see how busy is design people, going around Ventura Lambrate district which is the pulse of the Milan Design Week, natural scenario of experiments, collaboration, design and open ending installations.
We face all this inspiring creativity in the streets around us: we go past Ikea exhibition in the floor below our.
We explore changing face garages, holes opening to designers coming from far away, buildings and hangars hosting strange wood, metal and ever seen material creatures.
We hang around and loose ourselves just to find a new direction to go. And we are ready.
Ventura Lambrate is here. Here we are.
Now, the question is: are you with us?
We are waiting for you!